UNIT I INTRODUCTION TO OOP AND JAVA FUNDAMENTALS

0/1

Object Oriented Programming – Abstraction – objects and classes – Encapsulation- Inheritance – Polymorphism- OOP in Java – Characteristics of Java – The Java Environment – Java Source File Structure – Compilation. Fundamental Programming Structures in Java – Defining classes in Java – constructors, methods -access specifiers – static members -Comments, Data Types, Variables, Operators, Control Flow, Arrays , Packages – JavaDoc comments.

UNIT II INHERITANCE AND INTERFACES 

0/1

Inheritance – Super classes- sub classes –Protected members – constructors in sub classes- the Object class – abstract classes and methods- final methods and classes – Interfaces – defining an interface, implementing interface, differences between classes and interfaces and extending interfaces – Object cloning -inner classes, ArrayLists – Strings

UNIT III EXCEPTION HANDLING AND I/O 

0/1

Exceptions – exception hierarchy – throwing and catching exceptions – built-in exceptions, creating own exceptions, Stack Trace Elements. Input / Output Basics – Streams – Byte streams and Character streams – Reading and Writing Console – Reading and Writing Files

UNIT IV MULTITHREADING AND GENERIC PROGRAMMING 

0/0

Differences between multi-threading and multitasking, thread life cycle, creating threads, synchronizing threads, Inter-thread communication, daemon threads, thread groups. Generic Programming – Generic classes – generic methods – Bounded Types – Restrictions and Limitations.

UNIT V EVENT DRIVEN PROGRAMMING 

0/1

Graphics programming – Frame – Components – working with 2D shapes – Using color, fonts, and images – Basics of event handling – event handlers – adapter classes – actions – mouse events – AWT event hierarchy – Introduction to Swing – layout management – Swing Components – Text Fields , Text Areas – Buttons- Check Boxes – Radio Buttons – Lists- choices- Scrollbars – Windows –Menus – Dialog Boxes.
Array Lists and Strings in Java
ArrayList is a part of collection framework and is present in java.util package. It provides us dynamic arrays in Java. Though, it may be slower than standard arrays but can be helpful in programs where lots of manipulation in the array is needed.
ArrayList inherits AbstractList class and implements List interface.
ArrayList is initialized by a size, however the size can increase if collection grows or shrunk if objects are removed from the collection.
Java ArrayList allows us to randomly access the list.
ArrayList can not be used for primitive types, like int, char, etc. We need a wrapper class for such cases
ArrayList in Java can be seen as similar to vector in C++.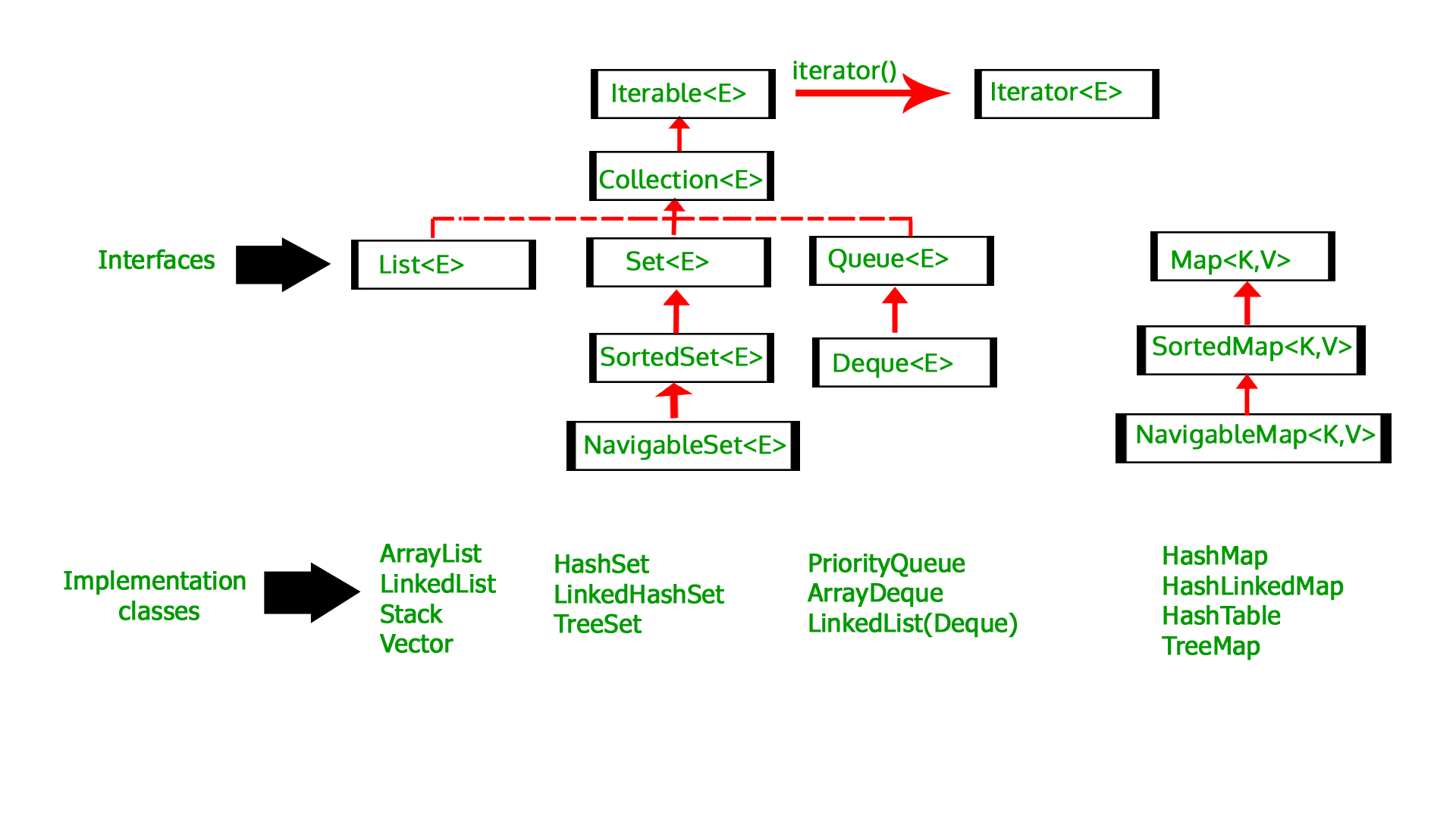 ArrayList class declaration
Let's see the declaration for java.util.ArrayList class.
public class ArrayList<E> extends AbstractList<E> implements List<E>, RandomAccess, Cloneable, Serializable  
Constructors of Java ArrayList
| Constructor | Description |
| --- | --- |
| ArrayList() | It is used to build an empty array list. |
| ArrayList(Collection<? extends E> c) | It is used to build an array list that is initialized with the elements of the collection c. |
| ArrayList(int capacity) | It is used to build an array list that has the specified initial capaci |
Creating an ArrayList and adding new elements to it
This example shows:
How to create an ArrayList using the ArrayList() constructor.
Add new elements to an ArrayList using the add() method.
import

 java

.

util

.

ArrayList

;




import

 java

.

util

.

List

;





public

 

class

 

CreateArrayListExample

 

{



    

public

 

static

 

void

 

main

(

String

[

]

 args

)

 

{


        

// Creating an ArrayList of String


        List

<

String

>

 animals 

=

 

new

 

ArrayList

<

>

(

)

;



        

// Adding new elements to the ArrayList


        animals

.

add

(

"Lion"

)

;


        animals

.

add

(

"Tiger"

)

;


        animals

.

add

(

"Cat"

)

;


        animals

.

add

(

"Dog"

)

;



        System

.

out

.

println

(

animals

)

;



        

// Adding an element at a particular index in an ArrayList


        animals

.

add

(

2

,

 

"Elephant"

)

;



        System

.

out

.

println

(

animals

)

;



    

}




}